Yarrow is a kind of herb, found in clearings and near settlements.
Yarrow has no nutritional value, but its herb effects make it very efficient in the treatment of wounds. If consumed while you are injured or applied directly to wounds, it will help them heal quicker.
Once it has finished flowering, yarrow can be harvested and threshed for seeds which can be planted. If you have settled somewhere, it is a good idea to plant a few yarrow plants nearby to have easy access to a nearly all purpose medicinal herb.
| Carbs | Fat | Protein | Produces | Growing time | Growing months | Found in |
| --- | --- | --- | --- | --- | --- | --- |
| 0 | 0 | 0 | Leaves, flowers, seeds | 50 days | June-September | Meadow,Settlement, Clearing |
Herb effects
Edit
When boiled, yarrow is an:
diaphoretic
tonic
alterative
anti-inflammatory
When applied to wounds, yarrow is an:
astringent
anti-inflammatory
vulnerary
anti-microbial
In real life
Edit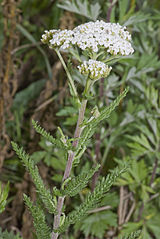 Yarrow is Achillea millefolium, a tall-stemmed plant with small white flowers and feather-like leaves. Yarrow was used in historical medicine as a remedy for treating wounds and staunching the flow of blood.

back to Herbs
Ad blocker interference detected!
Wikia is a free-to-use site that makes money from advertising. We have a modified experience for viewers using ad blockers

Wikia is not accessible if you've made further modifications. Remove the custom ad blocker rule(s) and the page will load as expected.