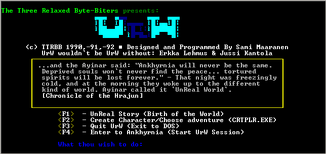 UnReal World has undergone many changes over the years, and development will hopefully continue far into the future.  The game has been altered greatly with the implementation of many new versions, and it is often worthwhile and interesting to make note of these changes by referencing the version number in which they took place.
A brief summary of major changes implemented by recent versions:
Modding is implemented
Many new plants, animals, skills and crafting recipes
3.05 - 3.11Edit
3.00 - 3.04Edit
Major overhaul with improvements to maps, villages and flora and fauna.
Female player characters
Ad blocker interference detected!
Wikia is a free-to-use site that makes money from advertising. We have a modified experience for viewers using ad blockers

Wikia is not accessible if you've made further modifications. Remove the custom ad blocker rule(s) and the page will load as expected.