Sages, or shamans, live in
settlements
of many
cultures
. They can teach
ritual
incantations, so the player can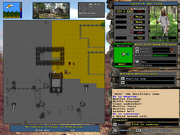 perform recently learned rituals (those in red). Also, the sage can heal the player's character when asked to. Sometimes they can be hired in exchange for
equipment
, following you along your adventures so you can use their services anywhere you are.
Sages/Shamans by culture
Edit
Kuikka-Tribe shamans look like old village people, but they carry a round object with them.
Ad blocker interference detected!
Wikia is a free-to-use site that makes money from advertising. We have a modified experience for viewers using ad blockers

Wikia is not accessible if you've made further modifications. Remove the custom ad blocker rule(s) and the page will load as expected.